Day 1
DAY 1: (from Thursday March 12th at 12 PM– Friday March 13th at 12PM, 2015)
Photodocumentation by David Morrow

Scroll down for text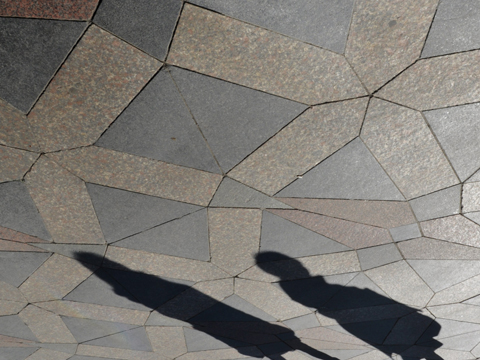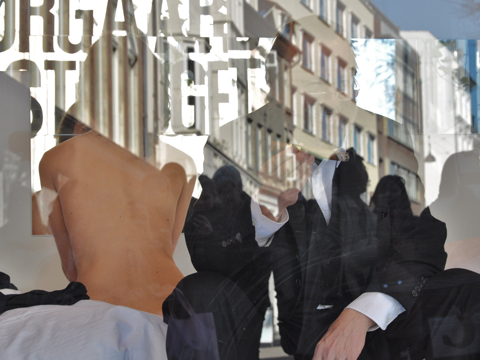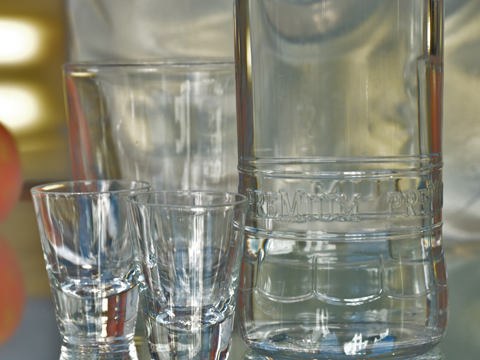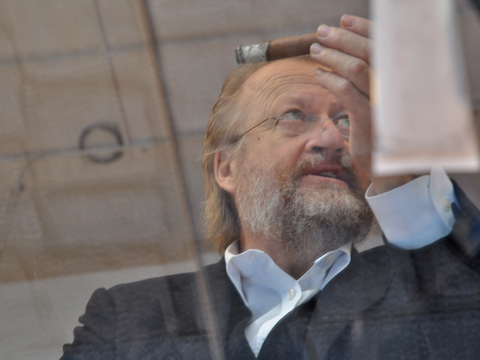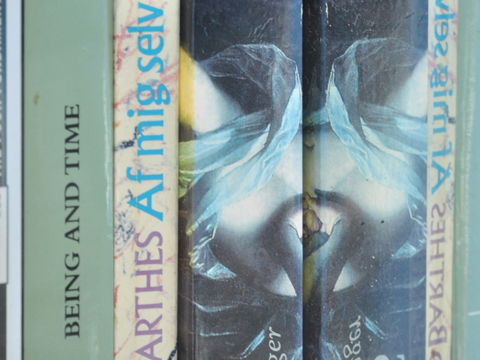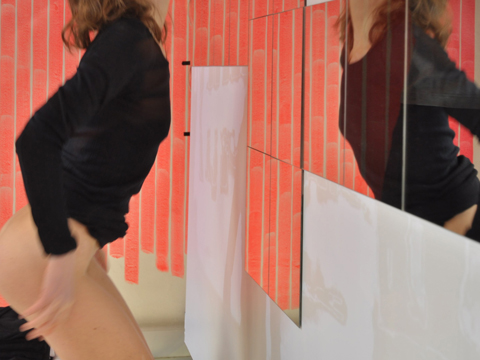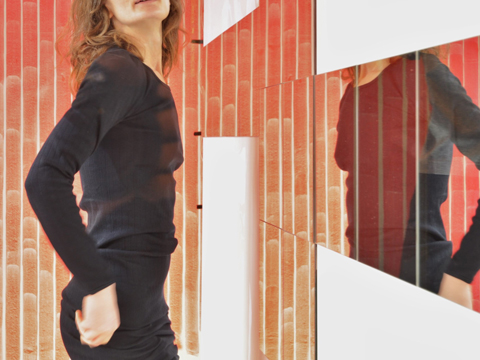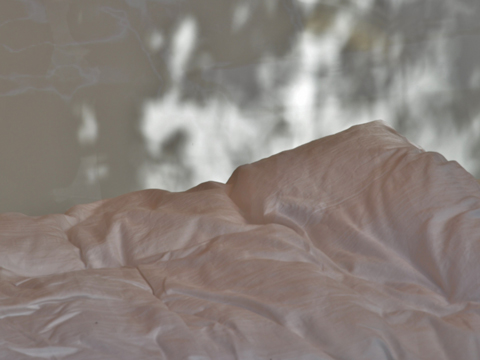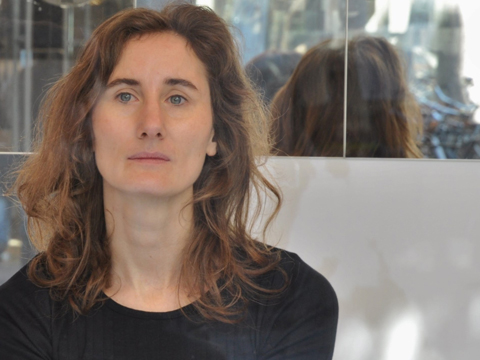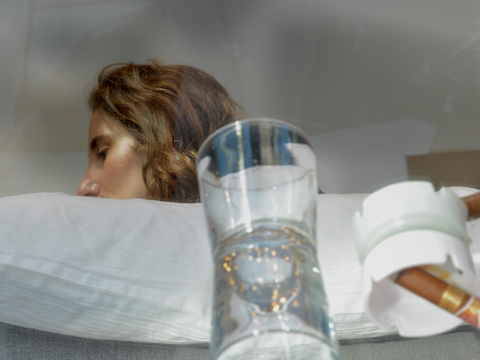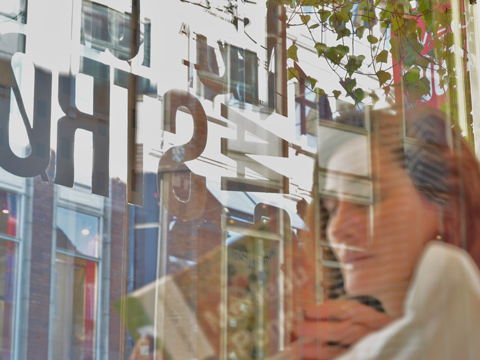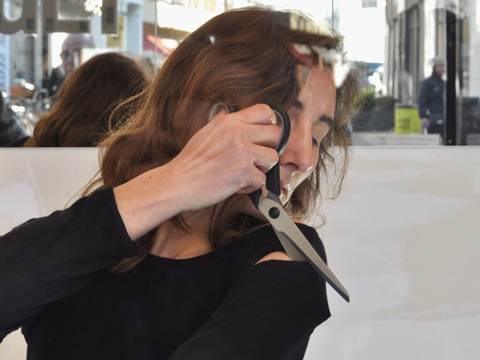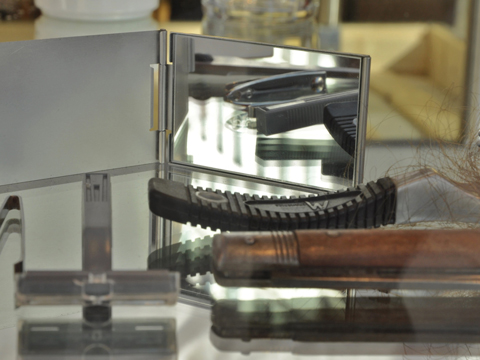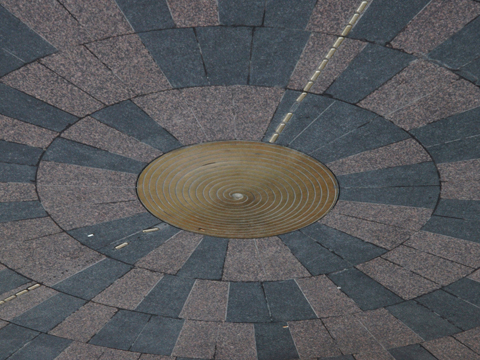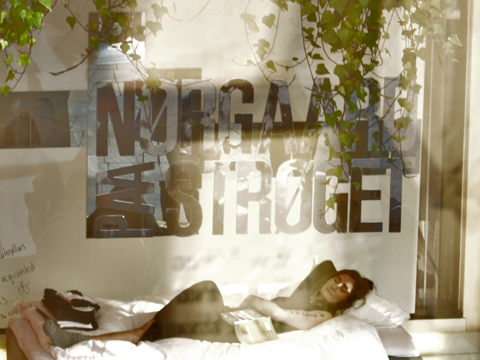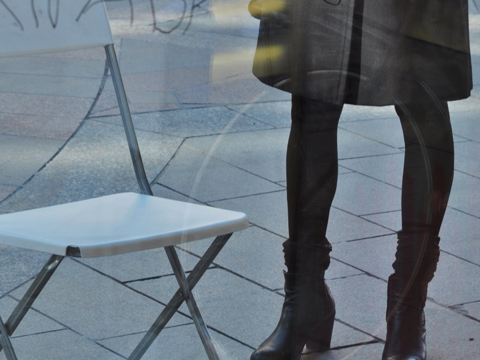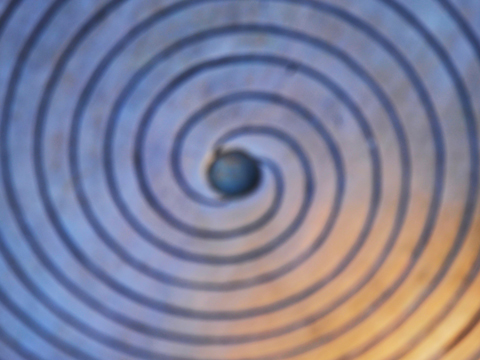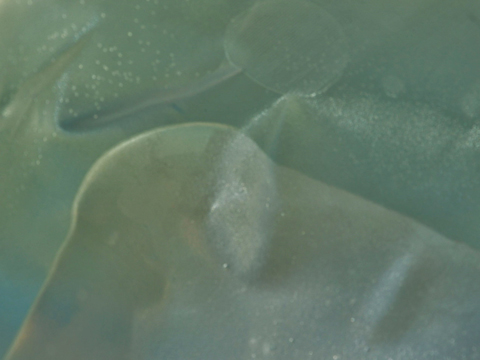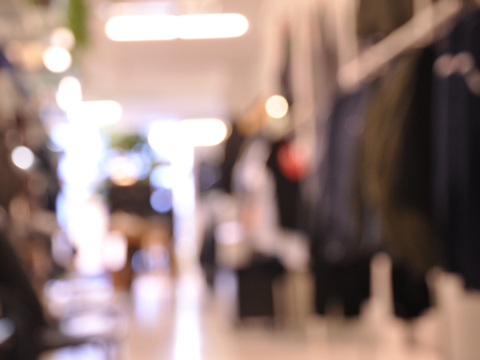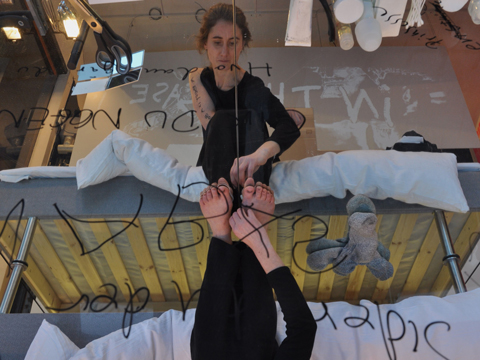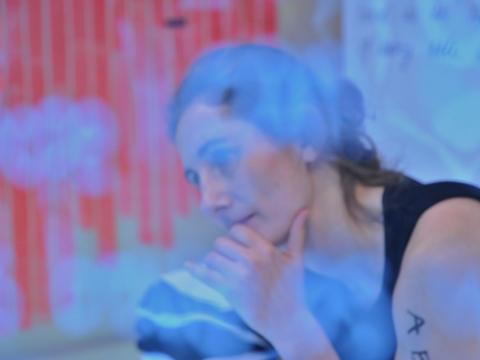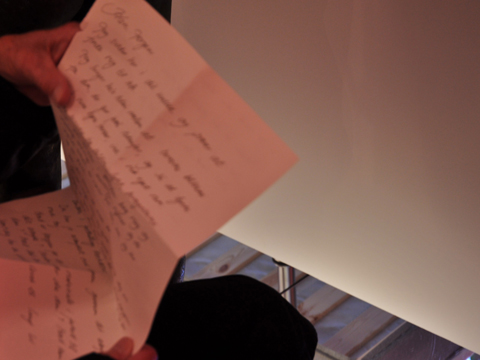 THURSDAY

A CHOREOGRAPHED DIALOGUE

I walked down the street. In dressing gown and bare feet. Worried people stopped, asking if I was ok. If I needed help? A vulnerable body in a busy place. Left my dressing gown on the street and walked up to the window. Naked. To look at the man dressed in black sitting on the bed, in the space, smoking a cigar. I went in. Sat down next to him with may back to the world outside, looking at it in the mirror in front of me. We sat there, back-to-back and talked.
But the body is what interests us the most. What interests us is the human being.
My wife often tells me: "Think with your eyes"
The ancient Greeks believed that eyesight or vision came from within to spread itself upon the world.
Your feet didn't feel the cold of the ground when walking here, because your body knew, that there were more important things to notice than the cold.
We perceive what we see differently depending on our inner images or the condition, with which we meet the world.
When I'm quiet it's because I have to puff my cigar. Otherwise it dies.
I see you know how to puff a cigar.
(Bjørn Nørgaard)
I sat down next to him. Now dressed in black too. I took over his cigar. It was called Romeo and Juliet, and the matches were called THE GOOD LIFE. I took his seat on my bed, got a kiss on the cheek and occupied my room – my home for the next three days and nights.
"Prior to stimuli and sensory contents, we must recognize a kind of inner diaphragm which determines, infinitely more than they do, what our reflexes and perceptions will be able to aim at in the world, the area of our possible operations, the scope of our life." (Merleau-Ponty) I need to pierce the surface of this moment deeper – go deeper into my complicity with this space, this now as the starting point of the world. The deeper my own concentration becomes, the more I will be able to open this room, this frequency to others.
Don't live in a glasshouse if you're made of stone.
"The body comprises as it were of two distinct layers, that of the habit-body and that of the body at this moment." (Merleau-Ponty).
Looking into the eyes of a child I am reminded of the simplicity of being here with someone else. Maybe that is in fact what I'm longing for…
When A touches B
Physically and figuratively speaking. When we touch and are touched. When I am touched. By others. When others are touched by me.
"When I touch my right hand with my left, my right hand as an object has the strange property of being able to feel." (Merleau-Ponty)
The body is a giver and a receiver.
AN EXCHANGE
He gave me an exquisite red rose. I gave him a letter. And he returned with a reply.
You ask me, what the body should be and do. I believe it should be a source of joy.
You ask of my own body. It is no beauty but to me it is a friend.
(Jørgen Nørgaard)
A rose is a rose is a rose
A body is a body is a body
I notice people's feet. Concentrate on their feet in order to avoid meeting their eyes. The absurdity of being a shy person and then putting oneself in this situation…
I AM HERE NOW
A BODY EXPOSED TO OTHER BODIES
YOU ARE HERE TOO
WE DWELL HERE FOR A WHILE
GAZING AT EACH OTHER
BOTH WAYS
Getting acquainted. Formalities and politeness. Acknowledging each other. Getting used to the gazes. Realizing that I can't control the expressions and impressions of the people on the other side of the glass.
I am a monkey in a cage, a fish in a fish-tank. I am here of my own volition. The gazes make me into an object, and I find it hard to escape it to become subject to myself. Suddenly my whole perception of my body is defined by the fact that it is the object of gazes...
YOU'RE NOT SUPPOSED TO PEE OR SHIT IN PUBLIC PLACES. SO I'M IN THE TOILET. I'LL BE RIGHT BACK
"I regard my body, which is my point of view upon the world, as one of the objects of that world. … every object is the mirror of all other objects." (Merleau-Ponty)
Thus every body is a mirror of all other bodies…
.
"Why are you here?"
"I want to understand more about who and what we are as private and public bodies. Who and what I am in private and public.
Ordinary life, simple tasks, exposed.
Because nothing is more interesting than looking at people.
But then what when they look back?
How do we receive each other when our gazes meet?
Why do we either smile in panic or look away when our eyes meet?
Because we feel exposed?
Exposed as what?
Human beings with human bodies and human emotions…
What's the shame in that?
We all must dwell here together. There really is no other choice…"
I AM VERY TIRED NOW I THINK I'LL REST FOR A WHILE. STAY AS LONG AS YOU WANT…
FRIDAY
Looking down I see the blue sky reflected in the mirror on the floor.
Clouds are sailing by behind the writing on the glass.
Pretty.
I am challenged here.
This is a strange vacuum. A no-mans-land. A transit.
DWELLING IS THE MANNER IN WHICH MORTALS ARE ON THE EARTH.
…
WE DO NOT DWELL BECAUSE WE HAVE BUILT, BUT WE BUILD AND HAVE BUILT BECAUSE
WE DWELL, THAT IS, BECAUSE WE ARE DWELLERS.
(Heidegger)
This exposure is extreme.
I am lonely amidst all the glances.
I lack ordinary things to do.
A body is not a body separated from what the body does.
The body is action.
Question and answer written on the glass:
"Why are you sitting there?"
"Why are you standing there?"
SHARING BREAKFAST
We ate, hungrily. Absorbed by food, thoughts and words. Good to have company. Good to share a meal.
There is an overall, common, joint body.
This is the body, which is detached when conflicts and trauma arise.
The body is a floating, mutable vessel.
Because of its fortune and its downfall, which is all its sensuousness, it must retract; withdraw, when encountering the world.
The body has a memory. Special storages in the body, which accumulate and are charged like a battery. Embedded in the body. They are triggered when circumstance activates them.
Like if you smoked a lot of pot when you were young. The toxins are stored in the fatty tissue of the body. Then one day, 20 years later, you start exercising and the toxins are released into the bloodstream, and you get high.
It's the same with objects. They store language, atmospheres, intentions, and significances and pass them on the spectator.
We are animals of language.
In this room the walls are soft. Active.
My own body is just a tool.
(Thomas FOS Poulsen)
Why do I feel like I owe the people I know a friendly complicity, which doesn't even serve their experience of the situation?
This well-meaning friendliness distorts the experience for us both only to confirm our good intentions to each other.
So faithful are we that we forsake the experience of the new in order to confirm the comfort of our relation… How much do we miss out on on that account?